Thursday Jan 19 was a beautiful and calm day for our first trip. The seas were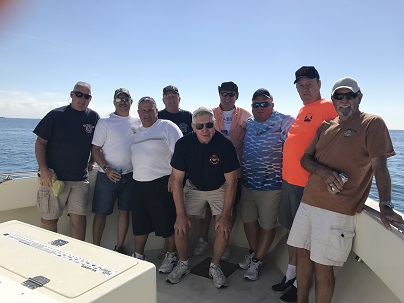 less than 2 feet and everyone was ready for a great day on the water. Our boat, "Island Time" left the Palm Beach Yacht center at 8 AM and after passing thorough the inlet we headed north past the Lake Worth pier. It wasn't the best looking crew but what can you expect from a bunch of retired Firefighters?
As soon as the engines stopped everyone dropped their lines hoping for the big one. The only big thing that happened right away is that everyone's lines got tangled and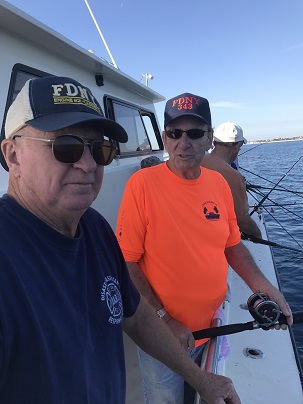 the mates were kept busy. After that we all got down to some serious fishing.
All that is, except Jim Coster who, as usual, kept harassing the crew with questions about the water's depth and insulting any women aboard with his off-color language. It wouldn't be a fishing trip without Jim Coster. That's Ray Hoeppner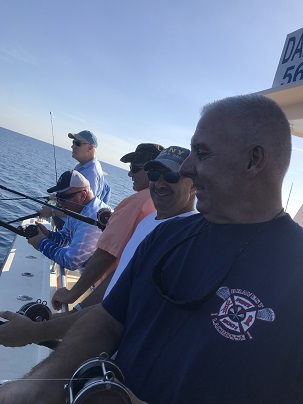 next to Jim telling him to shut-up. It didn't work!
On the other side of me were the smart ones who took positions away from Jim.
That first guy is one of our new members, Frank Durr. Next to Frank is Dante Ramirez who always comes on our fishing trips. Although a new member, Frank has endeared himself to everyone by winning the big fish pool that everyone else wanted to win. So the vote was not to let Frank know when the next fishing trip would be!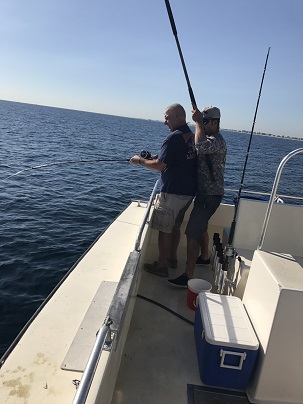 Only kidding, of course. Frank was right next to me when his reel start singing and playing out line very fast. At first we though he hooked into a shark. The fish had Frank walking around the side and stern of the boat all the way to the other side and then back to the stern again where it commenced to bend Frank's rod and also his energy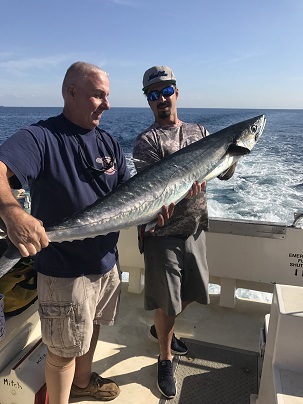 to fight this fish. The mate followed him all around the boat waiting for a chance to identify and then gaff this monster.
When both the fish and Frank were exhausted the mate was able to gaff it and bring it aboard. It was a King Mackerel. The biggest one I had ever seen.
At the end of the day almost everyone had caught something. Some were either too small or non-eatable but there were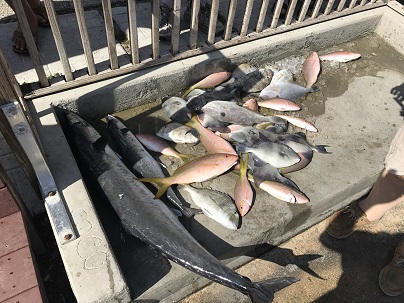 enough to make it a good day.
In addition to Franks King Mackerel there were trigger fish, yellow snapper, mutton snapper, and a file fish.
We are going to try to have a fishing trip each month so if you missed your chance this time be sure to sign up for our next one. Next trip scheduled for Feb 17. E-mail me if interested. Fireny@aol.com


JUNGLE QUEEN, AFTERNOON SIGHTSEEING CRUISE
We had our 2017 Sightseeing Cruise on the Jungle Queen out of Ft. Lauderdale on March 2. It turned out to be a beautiful day and everyone felt that it was a great trip. We had 30-members and their guests signed up for this activity and the boat left the dock at 1:30 PM.
Signed up was Norbert Meehen party of 2, Tom Guldner party of 3, John Dogherty & 6 guests, Mike Cuccio party of 2,Frank Durr party of 2, Bob Wilday party of 2, Jim Coster party of 2, Tom O'Rourke party of 2, Ray Hoeppner party of 4, Tom Rapatski party of 2, and Mike Leddi party of 2.
It was a 3-hour cruise (Oh Oh) and we viewed many of the multi-million dollar mansions and yachts all along the Intracoastal and rivers of the Ft. Lauderdale area. (Not one was owned by a retired Firefighter)
The Jungle Queen staff had seats reserved for the law-abiding members of our group on the main deck.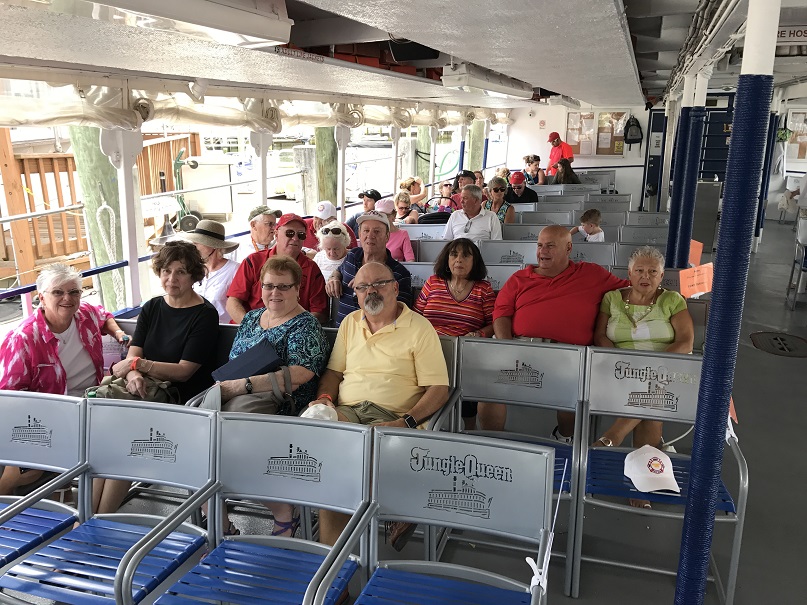 But we are Firefighters, and some do not conform to regulations, so several members went to the top level.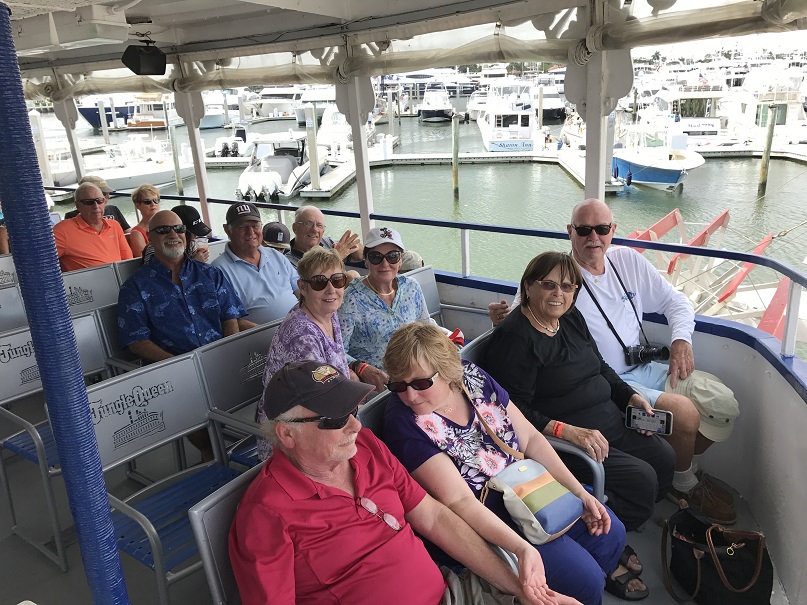 Halfway through the cruise we were treated to a visit to a private Island where we had some refreshments and an alligator wrestling show. Everything went along great until someone got a little careless. Guess who?????
Jim Coster was leaning over the wall to the alligator pit when he dropped his cell phone while trying to take a photo. The gator swallowed his phone but the guy in the pit held his mouth open to allow Jim to reach in and retrieve his phone. Jim declined the offer and is now looking for a new phone.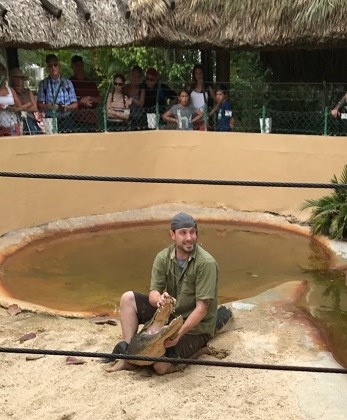 By the end of the cruise, our group had caused so much trouble that the Jungle Queen crew had to call the police.
For the remainder of the day everyone stayed exactly where they were supposed to.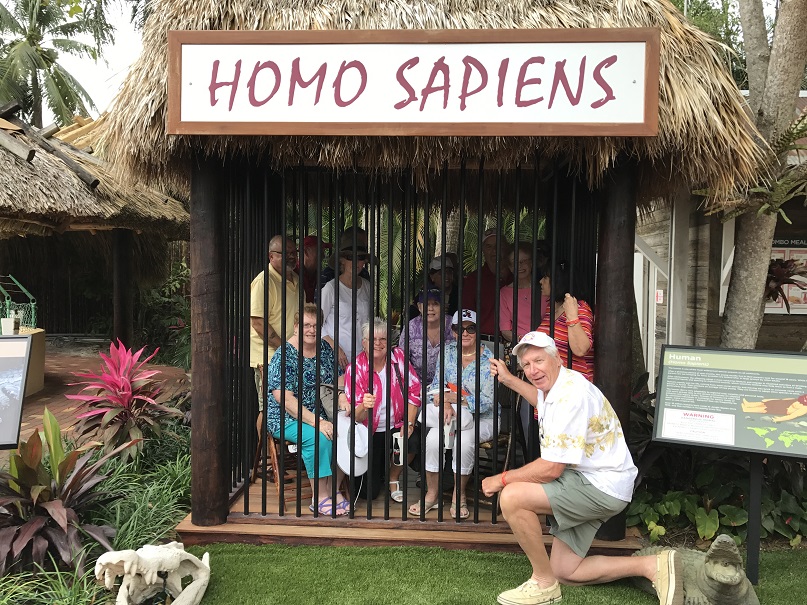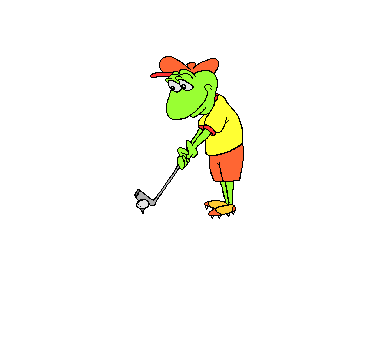 2017 Golf Outing
I will be setting up a golf outing and possible luncheon at a local course. If you want to be included e-mail me now at Fireny@aol.com
Include Name, phone and number in your party.