FDNY Active & Retired of Palm Beach
First trip 2016 FDNY Palm Beach Retiree Fishing Trip
The winds finally calmed down for our first fishing trip of 2016 in January. Not too many of the brothers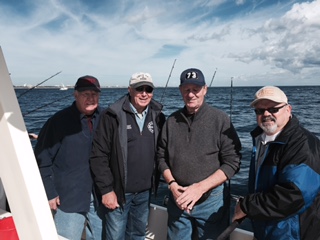 believed it would be calm enough so there were only 4 of us aboard the "Island Time" out of Hypoluxo. In the photo on the right they were R to L - Tom Rapatski - Ray Hoeppner, Me (Tom Guldner), and Jim Coster.
Jim Coster again won the pool for not haveing shut up for more that one minute during the day.

Our second fishing trip for February was a wash out with 25 mile an hour winds and 5 to 7 foot seas.
On March 15 the weather finally coorporated and we had our second fishing trip of 2016. This time we had 10 members and their guests aboard the "Island Time" out of Hypoluxo. It was a beautiful day so the boat was filled to capacity.
A guest of one of our members hooked into something really big. He fought the fish for about 10-minutes and it finally came to the surface to be seen. It was a Bull Shark about 8-10 feet in length. While it was not a pool fish, elegable for the money, it was the biggest fish caught that day.
It was a great day and a good group of guys. And once again Jim Coster won the award for
"NOT SHUTTING UP DURING THE ENTIRE TRIP!!!
Jim Coster and Ray Hepner were AWOL when we took this photo.
On the third and final trip of 2016 we charted our own boat. We left from the same dock as before but this time on the "Southern Comfort"
If you will notice there are no fish in this photo either! Actually there were a few small ones, and brother Dante Rameriz (5th from left) won the $50 pool with a 14 inch trigger fish. Jim Coster was SOMEWHAT behaved. He must have been sick!
From left to right (John Glick, Tom Raptaski, Ray Hoppner, guest, Dante Ramerez, Tom Guldner, guest, Jim Coster, 2 guests