FDNY Active & Retired of Palm Beach
First 2014 FDNY Palm Beach Retiree Fishing Trip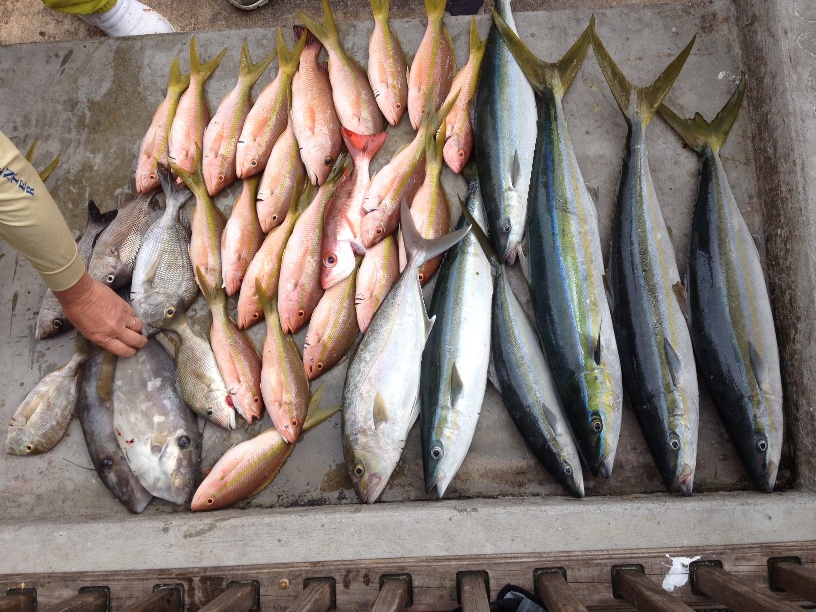 It was slightly overcast for the first fishing trip of 2014 for the Retired and ActiveFDNY of Palm Beach County. We had 15 members and their friends aboard the "Island Time" out of Hypoluxo. There were a few light showers but that didn't stop us.
This year the boat headed south after clearing the Boynton Beach Inlet. We made several stops and caught fish at each one. We eventually wound up all the way down to just off Atlantic Ave in Delray Beach.
There was a good selection of fish species caught and the ranged in all sizes. (See photo right). The larger fish on the right in the photo are called Ranbow Runners. Although they were some of the bigest fish caught and the best fighters they did not count in the pool.

It wasn't a very good looking bunch of guys but we did have a good time fishing.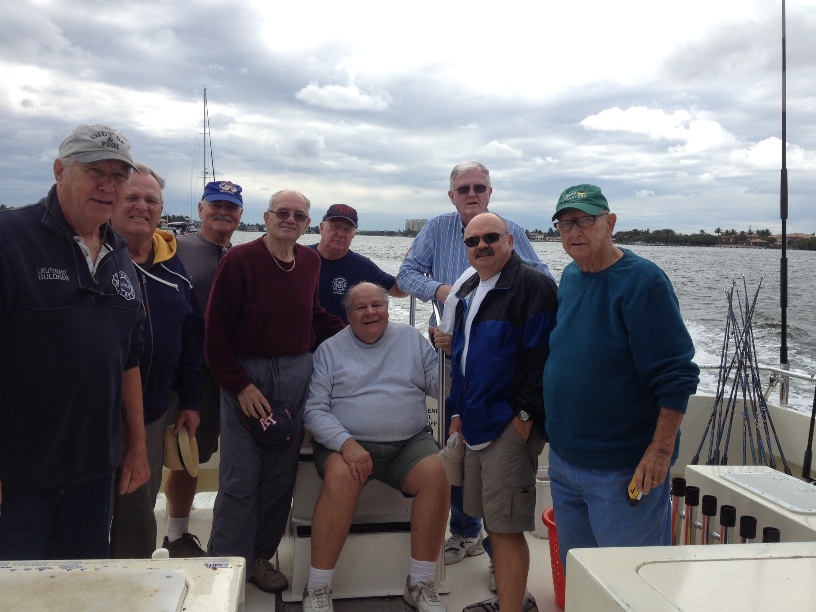 There were many fire stories (mostly made-up) and a few jokes (mostly bad) but it was good to get together for the day.
Many of these guys have been on our past fishing trips but there were also a few new faces.
At every stop, just as we were about to drop our lines Jim Coster would yell out, "What is the depth here?" Someone would yell back that it was 85' and Jim would say, "I always catch fish at 85'.
After he repeated this performance for the fifth time many of us tried to throw him overboard. Luckily for Jim the boat's Captain stoped us. Not because he liked Jim. He said he didn't want the waters poluted!!!!

A few of the brothers brought some non FDNY friends along for the trip. One of these was the guest of Norbert Meehen. His name is Moe and everytime he got a bite or landed a fish everyone would yell, "Hey Moe, what do you know"
This was very funny until we found out that Moe had won the boat's pool with the bigest fish. The photo on the right is Moe counting his money.
"Hey Norbert, keep your friends home from now on." I'm only kidding. Moe was a great guy and had a great sence of humor. On a boat full of FDNY members you have to have a sence of humor.
We will try to get a few more fishing trips running for this year.