2012 Fishing Trip.....Due to a weather report (that was wrong as usual) the First Annual FDNY Palm Beach Retirees Fishing Trip was called off. When Brother member Fred Schlueck was told he refused to stay home stating, "I already made my sandwiches!" Based on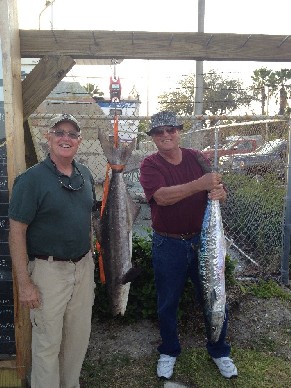 that fact Fred and his friend decided to go out themselves. When he told me this I said I would join them.
We were on the boat ready to take off when Brother Jack Collins called me stating that he was at the "Sea Mist" fishing boat waiting for everyone. (Jack didn't listen to any of his phone messages canceling the trip. I let him know where we were and he drove to our location and just made it aboard as the boat was ready to leave.
The weather forecast said 5' to 7' seas but that was wrong as usual. As we went through the inlet we found the Atlantic almost flat. The waves were no more than 2' high. We traveled south for about 10-minutes and then started drift fishing. Jack Clark had a little difficulty letting out his line so I showed him how to do it. During one of our stops he was letting his line out and asked me if I though he had let out enough. I told him that I thought he had and when he hit the stop lever on his reel the rod almost bent in half. At first I thought he had hooked the bottom but soon found out that was not the case. He had a fish on and it was a BIG one.
The fish ran out line several times and caused Jack to walk his rod over the heads of everyone aboard from the front of the boat to the rear and then back up to the front again. When the mates finally gaffed and landed the fish Jack had himself a 33 pound Cobia. See Jack and his fish on the left in the photo on the left.
Fred Schlueck, not to be out done decided he would try a new way to fish. He had already landed some smaller fish so he put his rod in the rod holder and sat down for a rest. I looked over at his rod a minute later and saw it bend over with a good fish strike. The fish was pulling so hard that Fred at first could not pull the rod out of the holder. He started reeling it in with the rod still in the holder. After a struggle Fred retrieved his rod and fought the fish to the side of the boat where it was pulled aboard and joined Jacks Cobia in the fish box up front. Fred's fish was an 18 pound King Mackerel. Freds friend caught a File fish which is a great eating fish. The only one in our party to get skunked with no fish was me!
We will still count this as the First Annual FDNY Palm Beach Retirees Fishing Trip. We will try to have this as a regular activity starting in 2013. We may even schedule several trips.

2012 Annual FDNY Palm Beach Retirees of Palm Beach Sightseeing Cruise
Our party of 26 had beautiful weather (despite a brief shower) and a wonderful trip. The boat left Delray Beach at 10:30 AM on Feb 29, 2012 and slowly cruised up the Intracoastal Waterway past multi-million dollar mansions and spectacular water foul. Lunch was available to "them that wanted" and I think one or two beers were consumed also. The trip was so successful that everyone was already talking about next years cruise even before the boat docked. We may try a dinner cruise that will travel south or we may take the morning cruise again and then meet for lunch across the street for where the boat docks in Delray.
2012 Annual FDNY Palm Beach Retirees of Palm Beach Golf Outing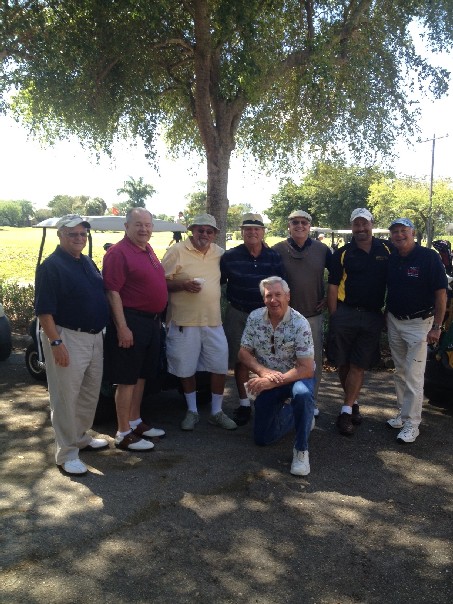 Don't let Jack Collins in on any future activities!!! He's a HUSTLER!!!
First he said he didn't know how to fish. Then, after he suckered everyone in, he caught the largest fish on our first annual fishing trip. Then he signs up for the golf outing and hits a HOLE IN ONE. This guy is a ringer. He's trying to beat us all.........
Only kidding but Jack did catch the biggest fish and, I was told that, he did make a hole in one. Personally I'm not going to play cards with this guy. That's Jack third from the right.
On March 5, 2012 we had our first golf outing at Sherwood forest Golf Course in Delray beach Florida. It was a beautiful sunny day and after a few cancellations we wound up with 6 of the 10 who signed up plus on unexpected but welcome guest.
That's none other than Steve Carbone the second from the left . Steve was the UFOA Lieutenant's rep. After doing that job in an excellent fashion for many years he was awarded with the official UFOA/UFA retiree GUT which is proudly shown by most of those in the photo. I knelt down so mine was not as noticeable.
In addition to Steve and Jack we had Gus Beatus, Dave Zysman, Frank Pietrangolare, Norm Kuerner, Fred Schlueck.
Next