Shipboard Firefighting Tow Boat and Barge Fires
Click on the title or photo of the topic you would like to see.
Our 5-day Shipboard Firefighting training program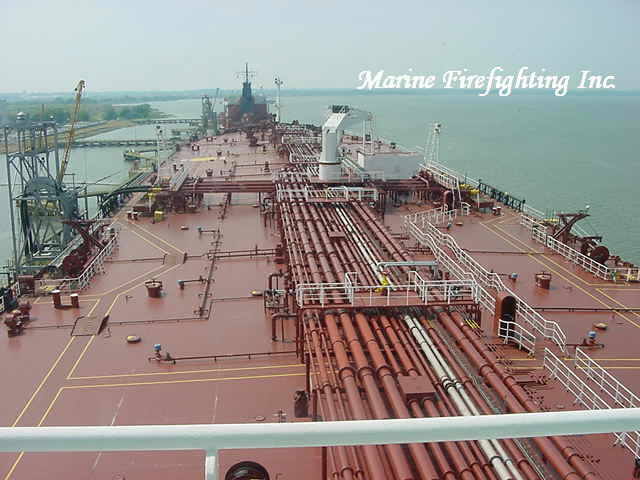 will provide your Firefighters with the information they will need to operate safely in this marine environment.
Land-based Firefighters may have never even been aboard one of these huge ships. How can we just send them into this foreign environment and expect them to operate as safely and effectively as
they would at a building fire, for which they have been trained?
Give your Firefighters the information and the tools they will need to operate safely at a vessel fire or emergency and also to protect your port and/or waterfront.
Marine Firefighting Inc. can tailor the time and content to match your requirements. Pictured above is the deck of one of the largest tankers to visit Delaware City, Delaware where we conducted some of our training.

Part one
Ship Construction, Nomenclature, Size up, Access and Egress, Communications, Incident Command
Part two
Shipboard Firefighting Tactics, Water Supply, Direct Attack Confined Space Awareness, Indirect Attack, Ventilation

Part three
Stability and De-watering, Fire Appliances, Fixed-Firefighting Systems, Engine Rooms

Day 2
Part Four

CO2 Operations

Part Five
Large Scale Foam Operations
Day 3
Familiarization Tankers, Dry Bulk Carriers, Ro Ro Carriers, Break Bulk Carriers, Cruise Ships
Click here to see the Familiarization seminars.
To see details of this seminar delivered to in California and Boston click here.

Day 4 and optional Day 5
Familiarization walk-through and/or fire scenario.
Classroom sessions are excellent but you didn't learn how to pull ceilings in a classroom. (Hopefully). Hands-on training re-enforces the information you received in class. Either a walk-through to point out all the vessel features we just talked about or running through a full
scale fire/rescue scenario is the best way to round out this training session.
Search and rescue exercises will test the students knowledge of the vessels layout, reading the ships fire plan, methods of searching, air monitoring, and victim removal.
Removing a victim aboard ship may be time consuming and manpower intensive. Carrying an unconscious or immobilized patient up several decks on steep ladders can be exhausting.
When you finally get the victim to the main deck you may have to be inventive in methods of getting the victim off the ship. Even at dock there can be problems and victim removal may take on actions which might have not been anticipated if this had been a structural fire. Here a victim has been treated and transported to the main deck where the bucket of a tower ladder is being used to prevent having to transport the victim down the steep accommodation ladder.

Stretching and operating hose lines at ship fire can, and usually does, involve multiple
companies just to get the first line into operation on the fire. Officers will need to maintain strict accountability and roll calls must be frequent. If a firefighter gets separated from his or her unit and no one knows that fact for an extended period, you will not know where to start looking for your firefighter.
In the classroom sessions students are taught that the below deck areas of a vessel can become a confusing maze of corridors, watertight doors, and steep ladders. Before you go below you must consult the ships plans so that you will know how to find your objective but more importantly, how to get out. Members going below "on-air" must be monitored. They need to be relieved or ordered out before their air supplies reach a critical level.
At this scenario (right) the firefighters had to stretch a hoseline from the main deck down several decks, find the fire, and safely operate. In the classroom the students were told that controlling a watertight door leading to the fire area is crucial.
Here the team is at the door to the fire area. One team member is feeling the door for heat and, if safe to to so, he or she will open the door just enough to check conditions and operate the hose stream if necessary. (And don't discount the danger of the steam that will be produced. Round out your classroom seminar with some hands-on training...

Inland Waterway Barge and Tow Boat Fires
Three day program that incorporates everything from our Shipboard Firefighting program above except for the ship familiarization seminars.
This
intensive training examines many of the features found aboard the inland waterway barges and towboats which can either help or hamper a Firefighting operation. Many Fire Fighters as well as commercial river workers take the dangers of a fire aboard a towboat or barge for granted. That's a BIG mistake!
From small deck fires to fully involved petroleum barge fires this seminar covers the features and Firefighting techniques that your firefighters or tow boat/barge workers will need to know. From extinguisher or small hose line operations to massive foam monitors and CO2 operations, this seminar will graphically discuss each operation.

Stability is just as important aboard a barge or towboat as it is
aboard the largest ocean going vessel. If your Fire Department or crew causes the barge or towboat to sink due to a lack of understanding of common stability rules then your waterway may be closed while the sunken vessel is salvaged. We will discuss the principals of stability
that your Firefighters or employees will need to know in terms that they will be able to readily understand.
Some of the cargos carried by these barges may provide dangers of their own. We all know the dangers of petroleum cargos but other cargos such as coal and forest products may ignite by themselves or reduce oxygen to dangerous levels. Give your Firefighters the knowledge they will need to fight fires in this environment that can be so much different than what they have already been trained for.


This training continues with a third day, hands-on visit, to a local
tow boat and/or barge for a familiarization tour and/or fire scenario.
You didn't learn to pull ceilings in the kitchen (I hope!) so you will not be familiar with the layout of a river tow without actually boarding one. If it's at a dock, boarding might not be a problem but what if the tow is in the
middle of your river or held against the shore at some other location?
Your Firefighters know what to expect when they roll into a structural fire on land. They have been trained for that! But a fire involving a tow boat or a barge out on your river is something else. Should you board. Should you send your Firefighters below deck? Let's go over your options so you will be able to make the safest decision. To see photos of this training given to the Louisville, Ky FD click here. E-mail for details.

If you are thinking that because you don't have a commercial port in your area that you do not need this information then consider this. Does your area border a body of water on which ships or tow boats and barges pass to reach one of these ports? Then what will happen when an explosion or fire in the engine room of one of these vessels causes it to loose both its power and steering and it has to drop anchor just off your shores.
Who do you think will be called? If you are thinking, "Let the Coast Guard handle it". Sorry. The Coast Guard's recent cut backs have reduced it presence drastically. Also, the Coast Guard feels that it is the responsibility of the local Fire Department to fight ship fires.
How about your legal liability?
Chapter 15-1.2 of NFPA standard # 1405 dealing with volunteer, career, as well as mutual aid fire departments who have been defendants in law suits involving losses at ship fires, states, "An understanding of the dangers inherent in marine fire fighting should include an understanding of the consequences of the failure to provide a standard of training, planning, response, and action equivalent to that which a department provides on the land-based portions of its response area."
And if you're thinking that this doesn't apply to you because you are not located directly on a commercial body of water... what about mutual aid? The above liability also applies to mutual aid Fire Departments. A major ship fire could require 100-Firefighters or more. Are you so far away from the water that there is no chance you might be called in?
Unlock the Secrets of Knowledge - Training is the Key
Contact Tom Guldner at MarineFires@aol.com for all your Lecture and Consulting needs.