Press Release
Marine Firefighting Inc. Trains Firefighters Along the Mississippi River
MFI has just completed a marathon 9-day seminar for the St. Louis, MO Fire Department. This area of the Mississippi has multiple hazards on the river so the seminars covered Tow Boat and Barge Fires, Small Boat and Marina Fires, and Small Fireboat Emergency Operations. Chief Mike Arras recognized the dangers of operating on one of America's mightiest rivers and wanted his Officers and Firefighters to be able to operate as safely as possible.
St. Louis is one of the busiest inland ports in the world. In fact, it is number one in the world in agricultural products. It also services large amounts of dry bulk and liquid bulk cargos. St. Louis is also unique in that it is the northern most port on the Mississippi River which remains ice-free year round. It's location south of the last lock on the Mississippi river also allows river tows of much larger numbers of barges than it's northern neighbors.
The Tow Boat and Barge Fire seminar is a 2-day program (with optional 3rd day hands-on). Due to the SLFD's 3-platoon system, MFI presented day one three days in a row and then the groups returned for day two which was also presented three days in a row. MFI is able to work it's seminars around your work chart or time schedule.
Each class was attended by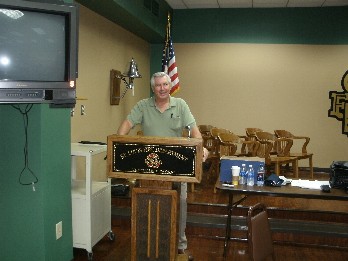 approximately 30-students and the program covered all aspects of fighting fires on inland river tow boats and barges. As always with MFI seminars safety is stressed. Students were instructed that in any incident, if there is no life hazard then we should not create one by rushing in. Setting up your operation in the safest possible manner should be everyone's primary concern.
Nomenclature was shown to be crucial to a safe operation. While the students were not expected to learn enough to make them tow boat or barge crew members they were shown how important it is to know exactly what a crew member is talking about. River terminology dealing with finding your way around while operating on these tows is crucial for your safety. Learning what some of the common tow boat and barge equipment was called is also helpful to a successful operation.
To lighten up this subject, a comparison was made between firefighters with no training talking with tow boat crew members and that classic Abbott and Costello routine of "Who's On First". The students were shown that if they didn't know the common terms used aboard river tows then they may not understand vital information which the crew may be trying to pass along at a fire or emergency.
Just prior to our seminar the St. Louis Fire Department was challenged with a devastating fire aboard one of the few remaining paddlewheel boat left in the US. The vessel was brought to St. Louis for renovation and during some of that work a fire broke out. The old boat was made of wood which provided a large quantity of readily combustible fuel for the fire.
The vessel was almost completely engulfed when the first fire apparatus arrived so there was little that could be done. No one was able to board the vessel and before too long the balconies and decks started to collapse.
Whether it's a Tow Boat and Barge Fire, a fire on a large ship, or a small boat fire in a marina, don't your Firefighters deserve this training? Why not contact us today to set up your own training seminar and keep your Firefighters safe. MarineFires@aol.com or call us at 914-329-8341
The President of The Marine Firefighting Institute, Tom Guldner is a retired 33-year veteran of the New York City Fire Department. Tom spent the last 10-years of his Firefighting career as the officer of
FDNY's only full time fire/rescue boat and as the training officer of FDNY's Marine Division.
He also held a USCG 100 ton Master's License and is a nationally certified instructor. Tom has addressed both Firefighter and Mariner Conventions on all aspects of Marine Firefighting. In March of 2003 he addressed the Lloyds of London Conference "Fire on Ships". Tom is currently a participating member of the Society of Naval Architects and Marine Engineers (SNAME) Fishing Vessel Operations and Safety panel and also their Small Working Vessel Operations and Safety panel. He is also a Principal Member of the NFPA Technical Committee on Merchant Vessels. His articles on Marine Firefighting have been published both nationally and internationally.
Tom has addressed the "Work Boat Show in New Orleans, Louisiana on many occasions. In 2002 Tom addressed the Work Boat Show and Professional Mariner Magazine's "MarCas Expo" in Baltimore, Maryland with a seminar entitled, "What To Do When Land-Based Firefighters Must Board Your Vessel" and another presentation recognizing the great job performed on September 11, 2001 by all the work boats in New York harbor. His seminars have also been delivered to Fire Departments, marinas, and commercial marine companies all over the USA and Internationally. To see a list click here.
If you have any questions for Marine Firefighting Inc., or if you would like to schedule this training seminar for your company or Fire Department you can e-mail Tom Guldner at MarineFires@aol.com