Press Release
MFI goes International in Conducting Tugboat Firefighting and LNG Familiarization
In 2008 Marine Firefighting Inc. expanded its LNG program internationally by providing training to the Servicios Marítimos de Baja California, S. de R.L de C.V. marine towing company in Mexico. This new company is a joint venture between Moran Towing Corporation and Compañía Marítima del Pacifico S.A. de C.V. to provide tugs and other marine vessels to assist LNG vessels calling at the Energía Costa Azul LNG Import Terminal. The terminal is being constructed and operated by Sempra LNG a subsidiary of Sempra Energy at a site located approximately fifteen (15)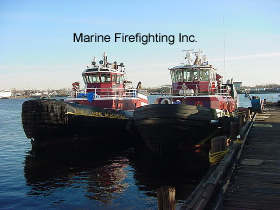 nautical miles WNW of the port of Ensenada, Baja California, Mexico.
Marine Firefighting Inc. (MFI) has been working with Moran Towing Corp. and Mc Allister Towing to provide familiarization on the new Fi Fi Class 1 Firefighting equipment installed on their new boats and also familiarization with the LNG product. The first session was conducted in January 2004 in Norfolk, Virginia and has been ongoing. These companies have been providing LNG vessel assist into the Dominion Cove Point LNG facility in Maryland..
As of 2006 we have also been training the tug boat crews of Crescent Towing and Moran Towing in Savannah, GA. They are both engaged in vessel assist for the ships offloading at the Elba Island LNG facility operated by Southern Natural Gas
In 2007 we also started providing the same familiarization training for G & H Towing, Bay Houston Towing and Sudderman & Young Towing in Galveston, Texas. Each of these tug boat companies have purchased these new Fi Fi 1 class boats and will be providing LNG vessel escort service for the Freeport, Texas LNG facility which began operation in January 2008. This facility is owned and operated by Freeport LNG Development, L.P.
In 2008 MFI also trained the Moran Towing Corporation crews in Port Arthur, Texas who will be operation at Sempra LNG's Cameroon LNG facility in Hackberry, Louisiana when it opens in early 2009.
In 2008 Marine Firefighting Inc. also provided an evaluation of a full scale emergency drill scenario involving the tug boats, an LNG ship, and an LNG facility. This service evaluated the coordination of the different training procedures provided to the principals involved in the marine transfer of LNG.
At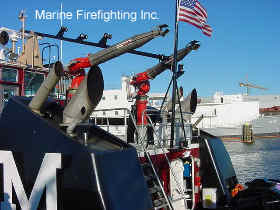 the end of 2008 we also provided this same familiarization program for the tug boat crews of Edison Chouest Offshore whose tug boats will be escorting LNG ships into the new Golden Pass LNG facility near Sabine Pass, Texas. Golden Pass LNG is a joint venture involving Qatar Petroleum, ExxonMobil and ConocoPhillips
In 2011 we will be giving these same programs for the boat crews of Colle Maritime, a subsidiary or Signet Maritime who will use their new Fi Fi 1 category boats to assist LNG ships into the newly opened Gulf LNG facility in Pascagoula, Mississippi. Gulf LNG is owned by El Paso Corp.
The tug boats, each with two massive fire monitors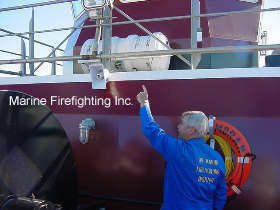 capable of a combined output of over 10, 000 gallons (37854 liters) per minute (40+ tons or 36+ megagram), make these boats capable of extinguishing, and/or controlling, most marine fire incidents. The remote controlled monitors are able to project a straight water stream 400 feet or convert to a misted stream to cover larger deck areas with cooling water or divert an LNG plume.
. The deluge system is a configuration of fixed pipes and nozzles which can cover the entire bridge and deck area with a misted spray of protective water. It can be used in conjunction with the monitors or by itself to protect crew members and the tug from radiant heat while operating on a fire. During familiarization we discuss one of the problems which may be encountered because of the effectiveness of the deluge. Visibility can be greatly reduced and crews were made aware that they might have to rely on radar. The system will allow the tug to either closely approach a fire or protect the boat and crew if they must withdraw in an emergency.
These boats also come with 4 sets of protective clothing and 4 complete sets of Self-contained Breathing Apparatus (SCBA) with spare air bottles. There is also the capability of refilling the SCBA air bottles onboard.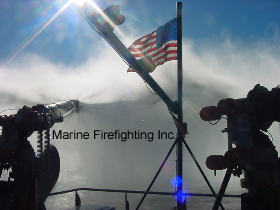 After the classroom session all crews boarded their boat under the supervision of the vessel's master to put the monitors through its paces.
The waterfronts in Norfolk, Savannah, and Galveston, and Port Arthur were presented with quite a display as both monitors were maneuvered into all positions and the water stream was converted from a thin straight stream into a wide dispersed stream.
The crews realized that these monitors are no toys and must be handled with care.
The volume of water delivered necessitated caution and continuous training with realistic fire drill scenarios. By the end of the morning session everyone had a new found respect for these excellent and powerful new tools.
The second part of the Marine Firefighting Inc. sessions for Moran, Mc Allister, Crescent, Bay Houston, Sudderman & Young, and G & H towing involved familiarization with the properties of Liquefied Natural Gas (LNG) and also familiarization with existing Firefighting tactics used at an LNG incident.
This familiarization is prompted by the tug company's contracts to provide ship-assist services to LNG tankers into the Cove Point LNG facility in the Chesapeake Bay, Elba Island in Savannah, GA, Freeport LNG terminal in Freeport, TX., the port of Ensenada, Baja California, Mexico, and Camaroon LNG, in Hackabery, Louisiana.
In 2016, Marine Firefighting traveled to the West Coast of Australia to provide our now industry standard training for tug crews working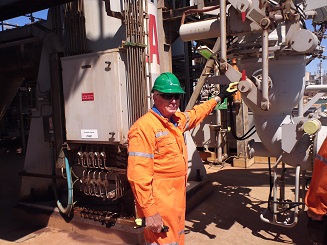 with LNG tankers. Riverside Marine's subsidiery, RiverWijs Tugs operate at ports all over Australia. Their LNG escort service is centered around Woodside LNG's facilities in Karatha, West Australia (photo left) which is in the extreme North West of the country. This was the furthest that MFI has traveled to provide it's training but the crews were the same professionals we have dealt with in the past. Tug Boat crews have a dirty tough job to do and they do it well. And when the work is over they also know haow to have a good time. Our Australian brothers are no different and the MFI Instructors were invited to one of their customary "Sausage Sizzles" (Bar-B Q) andter the classes were completed.
The excellent safety record in the LNG shipping industry will continue to be maintained by Moran, Mc Allister, Crescent, Bay Houston, Sudderman & Young, G & H's, Servicios Marítimos de Baja California, and Edison Chouest Offshore by their crew's commitment to safety and training. If your company is engaged in the LNG delivery and/or receiving industry then perhaps this training could benefit your employees also. We also provide ongoing Firefighting training aboard any work boat or ship.
Whether you are a private commercial marine company or a municipal Fire Department, Marine Firefighting Inc. will be able to provide the familiarization, consulting, or informational seminars that your employees need to perform their jobs safely. All aspects of Marine Firefighting can be covered. Whether your hazard represents a small boat and marina fire or a fire aboard the largest tanker or cruise ship afloat we have the expertise to handle your training and seminar needs.
The President of The Marine Firefighting Institute, Tom Guldner is a retired 33-year veteran of the New York City Fire Department. Tom spent the last 10-years of his Firefighting career as the officer of FDNY's only full time fire/rescue
boat and as the training officer of FDNY's Marine Division.
He also held a USCG 100 ton Master's License and is a nationally certified instructor. Tom has addressed both Firefighter and Mariner Conventions on all aspects of Marine Firefighting. In March of 2003 he addressed the Lloyds of London Conference "Fire on Ships". Tom is currently a participating member of the Society of Naval Architects and Marine Engineers (SNAME) Fishing Vessel Operations and Safety panel and also their Small Working Vessel Operations and Safety panel. He is also a Principal member of the NFPA Technical Committee on Merchant Vessels. His articles on Marine Firefighting have been published both nationally and internationally.
Tom has addressed the "Work Boat Show in New Orleans, Louisiana on many occasions. In 2002 Tom addressed the Work Boat Show and Professional Mariner Magazine's "MarCas Expo" in Baltimore, Maryland with a seminar entitled, "What To Do When Land-Based Firefighters Must Board Your Vessel" and another presentation recognizing the great job performed on September 11, 2001 by all the work boats in New York harbor. His seminars have also been delivered to Fire Departments, marinas, and commercial marine companies all over the USA and Internationally. To see a list click here.
If you have any questions for Marine Firefighting Inc., or if you would like to schedule this training seminar for your company or Fire Department you can e-mail Tom Guldner at MarineFires@aol.com