Used to create a 3rd day of the Shipboard Firefighting program. ( Firefighting Button)
Training available as classroom sessions and may be combined with a ship visit.
Email us for details. MarineFires@aol.com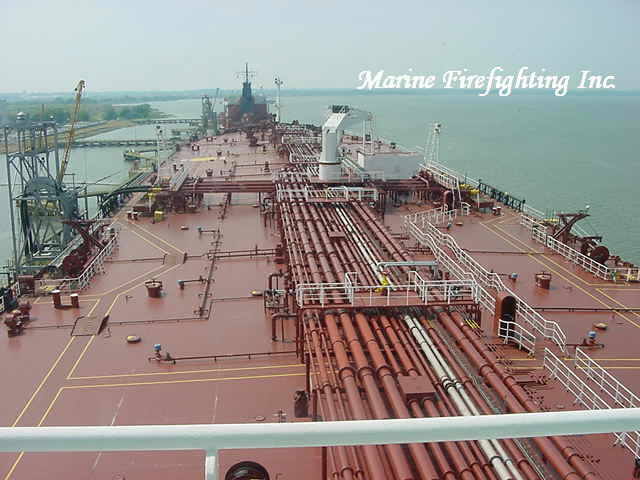 From the largest Ultra Large Crude Carriers (ULCC) to the smallest inter-harbor supply vessels, tankers pose one of our most severe threats.
This program takes you aboard a crude oil carrier and explains the operation of this complex vessel. Follow the product as it is pumped aboard through a maze of pipes and valves. How do they know when a tank is full? Where can the flow of oil be shut down in an emergency?
Some of the items we will discuss are: the fire fighting systems, pump control rooms, and the workings of the pumps. We will also explain the special "gas inerting systems" which have greatly reduced the threat of the devastating explosions in the past. Firefighters will want to know if it is working! Then you will look at some of this ships construction features which we can use to our advantage. This presentation will give you a basic understanding of tankers,
which may be put to use at a fire or emergency. E-mail MarineFires@aol.com

Bulk Carriers
These massive ships are second in size only to the very largest crude
oil tankers. They carry any loose dry cargo from wheat and grain to iron ore ingots. All cargos will have their own peculiarities which must be addressed. Grain may swell to the point of damaging the bulkheads when Firefighting water is applied. Some coals may be capable of spontaneous combustion while in transit. Other types of Bulk Carriers are the Break Bulk and the Neo Bulk Carrier which each carry a different form of dry cargo.
The land based Firefighter must be aware of the cargo problems and the ships configuration as it relates to Firefighting. Many of these ships are capable of unloading themselves by conveyer systems (right), thereby not needing sophisticated shore side facilities. E-mail MarineFires@aol.com
Graphic courtesy of - American Steamship Co.

Ro Ro ships
Roll On Roll Off ships can handle anything,
from compact cars to a large corn combine.
Moveable decks, some over 800' deep, and retractable bow, side, and stern ramps can load anything that rolls.
This presentation goes aboard several different Ro Ro vessels to illustrate their special hazards and the peculiar fire protection requirements of the massive open vehicle decks.
E-mail MarineFires@aol.com

Container Ships
What's aboard? Where is a certain container stored? How are they loaded? How are they secured? Some of these huge ships can carry over 10,000 containers!
We will also look at the stability factors which must be taken into consideration while these
vessels are loaded or unloaded. This presentation uses color photos, movies, and animated graphics to show the ship loading and explain its operation.
Combine this with the presentation dealing with Intermodal Containers and you have a mini-seminar which will fully cover the subject of containers. The Intermodal container presentation describes the many different types and sizes of containers you may come across anywhere. You will see how they are handled in the port and the types of equipment used to move them. E-mail MarineFires@aol.com

Cruise Ships
The Cruise ship industry has radically increased the number of ships in their fleets as well as the overall size of individual vessels which are now carrying thousands of passengers. Recent stories in the newspapers and television about fires aboard some of these ships have once again aroused the public concern.
This presentation takes a look at the features, operation, and construction of these beautiful ships. We'll show the offloading of the previous passengers luggage and garbage to the loading of the new passengers luggage as well as the food and beverages that make these cruises so attractive.
The galleys and laundry have been the scene of many cruise line fires. We will examine why this is and show you where you can get hurt and how you can escape. We will also show you how to maneuver around the ship and some other information needed to safely conduct searches. E-mail MarineFires@aol.com

Break Bulk Carrier
A "Break Bulk" carrier is identified by the manner in which its cargo is stowed aboard. That cargo comes "packaged" as opposed to the loose dry cargo in a "Dry Bulk" carrier. It can carry many different types of cargo on multiple decks. In some cases these decks can be placed at different levels. These "tween decks" are what makes this vessel unique.
The photo on the right shows some of these "Tween" levels. On this vessel the "Tween decks" could be opened or closed in an accordion fashion. Other Break Bulkers deploy these intermediate decks in different ways. Safety is stressed throughout the classroom portion of the seminar as well as aboard the ship if our familiarization visit is requested. There are many areas aboard any vessel that could present an immediate hazard to your Firefighters. Is your Department informed about the dangers aboard vessels visiting your port?
E-mail MarineFires@aol.com