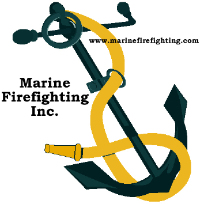 Marine Firefighting Inc.
Has conducted its "Commercial Fishing Boat Fire"seminar for
New Jersey and US Coast Guard Fire Departments
The Erma Fire Department in Cape May County, New Jersey contracted with Marine Firefighting Inc. for a seminar dealing with fires aboard a commercial fishing vessel. Cape May County has one of the largest fishing boat fleets on the eastern seaboard. The Erma Fire Department is a very training proactive Department and has also hosted MFI's "Small Boat and Marina Fire" seminar in the past. Their Chief, Warner Muller, takes training and the safety of his Firefighters very seriously. He assisted in the setting up and photo research as well as making arraignments with a vessel in his area for the afternoon visit. Marine Firefighting Inc. has seminars for either Firefighters or Mariners. United States Coast Guard Firefighters from MSO Cape May also attended.
Fires aboard a commercial fishing boat can present unique hazards which Firefighters have not anticipated. Whether its a New England Lobster Boat, a Cape May quahog dredger, a Gulf Shrimp Boat, a Chesapeake crab boat, a West Coast anchovy boat, or an Alaskan King Crab boat they will all have one thing in common. Their crews will want to bring home as much fish as their vessels will hold, and sometimes MORE fish than their vessels can hold.
This
seminar day started with a classroom session where some firefighting tactics for fires on these vessels were discussed. Tactics and pre-fire plans for vessel fires differ greatly from land-based structural fires. Also discussed were some basic principles of stability.
Why do firefighters need to know anything about the stability of a vessel?
If a seriously overloaded and unstable fishing boat is on fire, your firefighters may be going aboard and adding additional weight in the form of firefighting water. If this water is not monitored and removed it may very well cause the vessel to sink or even worse, capsize catastrophically with your firefighters aboard.
In the photo on the right Tom Guldner, president of Marine Firefighting Inc. explains how a good catch can lead to some serious stability consequences during the afternoon visit to a large fish processing vessel . If the catch is too large, or even if it is not stowed properly, it can cause serious stability concerns. Photo shows an open hatch leading down to the lower hold area where either frozen fish would be stored or where a loose mackerel catch may be dumped.
Loose fish can shift freely in the hold and unless there are dividing boards or partitions fitted into the hold to prevent this side to side shifting of weight this could cause an overloaded fishing boat to capsize.
Many commercial fishing boats have been lost at sea without any radio transmissions for help due to this shifting called "Free Surface Effect". (See previous Newsletter dealing with stability) This phenomena occurs when the massive weight of a partially filled area containing liquid or loose fish shifts all its weight to the low side as the vessel leans over in high seas. This leaning is called "healing". If the cargo shifts during this "healing" it may cause a permanent "listing" or worse, it may capsize the vessel. This sudden shift can overwhelm the vessels inherent stability and cause the vessel to immediately capsize.
(Note: Marine Firefighting Inc. has recently worked with The Society of Naval Architects and Marine Engineers (SNAME) to create a new booklet for the fishing industry dealing with "Fishing Vessel Safety and Stability. This booklet was requested by the United States Coast Guard after many commercial boats sank in a very short period.)
So, if a vessel which is overloaded like this is lucky enough to make it to its home port without capsizing and then catches fire, the stability problem will now belong to your firefighters.
The Vessel Familiarization Visit
O
nce aboard, some ground rules and safety information must be setup. There are many things aboard these vessels that can hurt you even under non-fire conditions. Slippery decks, electrical equipment
, steep stairs and ladders with slippery rungs, open hatches (see photo left), moving machinery and limited access are just a few of the dangers always present.
Everyone must be cautioned about these dangers and your visit aboard must be well organized and monitored. Keep the numbers of Firefighters to a manageable size and be sure to involve everyone or at least insure that everyone can hear the information you or the vessels crew is attempting to give out. Consider bringing a portable bull horn along.
Take your time during this visit. If your group is too large or the vessel is too big, consider making several visits and just discuss a few areas on each trip. And don't forget to elicit questions from everyone. The only stupid question is the one that is not asked! My motto is "I'm not young enough to know everything". The day I stop learning is the day they put me in the ground.
Firefighters are shown standing on the lower processing deck (right) as Tom explains the
manner in which the fish travel through the entire processing procedure aboard this vessel which involves catching, cleaning, freezing, and storing. Each vessel is somewhat different. Many fishing vessels just ice their catch and leave the processing up to land based facilities. This vessel could do it all on board. While the firefighters are not expected to know as much as the fishing vessels crew, they should understand what functions the different areas serve.
This information may be vitally important to Firefighters under fire and emergency conditions where knowing the dangers or benefits of certain equipment and areas might mean the difference between everyone going home at the end of a fire or everyone having to go to another Line Of Duty Fire Department funeral.
Throughout all of our seminars we stress the importance of pre-fire planning and on site visits. Whether its a marina filled with small boats, an ocean going tanker filled with millions of gallons of gasoline, or a commercial fishing vessel, you should try to set up plans in advance. Vessel and facility visits are mandatory to understanding marine firefighting.
Other safety measures and equipment you
should consider is safety helmets or hard hats. Many of the areas aboard have low ceilings or equipment may be hung from the calling in such a way it can cause head injuries if struck (left).
Added to the list of safety equipment you should consider for every firefighter is, steel toed shoes or boots, ear protectors for loud machinery spaces, gloves, and eye protectors.
Any vessel has inherent dangers just by virtue of the work they perform. Any visitors must be aware of these dangers and accept the risks involved before boarding.
Don't your Firefighters, Fire Officers, and Boat Crew deserve the benefit of this information? Why not contact Marine Firefighting Inc. today to set up a date for this "Commercial Fishing Boat Fire" seminar or any of our other marine firefighting seminars. For further information, e-mail us today at MarineFires@aol.com
And it doesn't have to be a large fish processing vessel for your Firefighters or crew to be in danger. Even this smaller Texas shrimp boat presented safety problems for the Kemah, Texas Fire Department. After the fire on the vessel pictured on the right their Chief asked Marine Firefighting Inc. to show their members some of the safety measures that could be employed to protect both the fishing boat crew and the Firefighters who were asked to board this vessel and extinguish the fire. (Photo courtesy of Kemah FD)
Whether you are a private commercial marine company or a municipal Fire Department, The Marine Firefighting Institute will be able to provide the familiarization, consulting, or informational seminars that your Firefighters or employees need in order to perform their jobs safely. All aspects of Marine Firefighting can be covered. Whether your hazard represents a small boat and marina fire or a fire aboard the largest tanker or cruise ship afloat we have the expertise to handle your training and seminar needs.
The President of The Marine Firefighting Institute, Tom Guldner is a retired 33-year veteran of the New York City Fire Department.
Tom spent the last 10-years of his Firefighting career as the officer of FDNY's only full time fire/rescue boat and as the training officer of FDNY's Marine Division.
He also held a USCG 100 ton Master's License and is a nationally certified instructor. Tom has addressed both Firefighter and Mariner Conventions on all aspects of Marine Firefighting. In March of 2003 he addressed the Lloyds of London Conference "Fire on Ships" and was a participating member of The Society of Naval Architects and Marine Engineers panel on Fishing Vessel Safety and Stability. Tom has recently also been retained as a consultant for the New York City Fire Department on the design specifications of their new fireboats which will be the largest in the world.
In 2002 Tom addressed the Work Boat Show in New Orleans, Louisiana and Professional
Mariner Magazine's "MarCas Expo" in Baltimore, Maryland with a seminar entitled, "What To Do When Land-Based Firefighters Must Board Your Vessel" and another presentation recognizing the great job performed on September 11, 2001 by all the work boats in New York harbor. Our seminars have also been featured at Fire Engineering Magazine's FDIC convention each year from 2002-2005. Our seminars have been delivered to Fire Departments, marinas, and commercial marine companies all over the USA. (E-mail us for a complete list)
If you have any questions for The Marine Firefighting Institute, or if you would like to schedule this training seminar for your company or Fire Department you can e-mail Tom Guldner at MarineFires@aol.com