Members lost on September 11, 2001 who worked in
The House on Prospect Avenue
Ladder Co. 42 and Engine Co. 73
Wait for Music to start then click on flag to page down.
Brian Ahearn
Brian was the son of former Ladder 42 Lieutenant Edward Ahearn. He carried on the tradition of dedication, professionalism, and good nature that his father was always known for. Brian was a great human being in addition to being a great Firefighter. He cared for the citizens in the neighborhood of his firehouse by running the annual Senior Citizen Christmas dinner at St. Anselms Church for many years prior to his promotion. Upon promotion, Brian was assigned to Engine Company 230 which responded to the World Trade Center on September 11, 2001. He was, and will always be a major part of The House on Prospect Avenue.
Peter Bielfeld
While assigned to Ladder 42, Pete ran the firehouse Senior Citizens Dinner for many years. His dedication as Firefighter was graphically illustrated in his final act of courage at the World Trade Center. Pete was at the medical office when the report of the first plane crash was received. Although not on duty, he rushed to the scene in his own car because he knew that there were people trapped. After borrowing a set of bunker gear at the firehouse across the street from the WTC he left a note on the locker. In the note he wrote his name and unit and asked that if he didn't make it back to return the gear, would someone give the note he left for his loved ones. Pete always put the needs of others in front of his own and his loss will always be felt on Prospect Avenue.
William Krukowski
Bill was a probationary firefighter who had just finished his cycle of duty in Ladder Company 42. I first met Bill the night before the attack. Ladder 42 had just had a rededication mass and ribbon cutting to reopen the firehouse after its renovation. Bill was introduced to me by former members of Ladder 42 whose judgment and opinion I have always trusted. They indicated that Bill would like to return to Ladder 42 after his rotation period and informed me that he would be a asset to the company. Bill had written his name and phone number on the back of my business card on the night of September 10th. to see if I could get him assigned to Ladder Company 42. Bill, you are and always will be a member of Ladder 42.
Joseph Marchbanks
Joe was a firefighter originally assigned to Engine Company 73 and later transferred "across the floor" into Ladder 42. His contagious smile was always present. Joe's willingness to help; whether at a fire, a practical joke, or to benefit a brother who needed him was also a constant that could be depended on. His love of, "The Job", was evident in his good natured professionalism wherever he was. He made his mark on the job everywhere he went as he was promoted to Lieutenant, then to Captain and finally to Battalion Chief where he was assigned to Battalion 12. Joe's memory will live on in the hearts and minds of all the members of The House on Prospect Avenue in the Bronx.
Raymond Murphy
Ray had been assigned to Ladder Company 42 for many years before his promotion to Lieutenant and subsequent reassignment to Ladder Company 16. While in Ladder 42 he made a reputation not only as an excellent fireman, but also as an excellent human being. On September 11th. he had made it safely away from the collapse of the first tower of the World Trade Center. One of the most touching photo's taken the day of this tragedy shows Ray walking back into the dust cloud which was surrounding the devastation because he knew that there were people in there that needed help. That's the type of guy Ray always had been and the type of guy he will always be remembered as.
Members lost on September 11, 2001 who worked in
The Firehouse on 161 Street
Engine Co. 84 & Ladder Co. 34
Click on flag to page down.
Gregg Atlas
Gregg was a Fireman in Ladder 34. He was known for his talents as an excellent firefighter as well as being a good friend. Gregg will be remembered for his smile and good natured practical jokes which could always take the pressure off of a serious moment. Upon his promotion to Lieutenant and after "bouncing around" for awhile he was happy to be assigned to his new firehouse, Engine Co. 10. Gregg fit in well and worked several years with this fire company which was located across the street from the World Trade Center. His company was the first unit to respond on 9/11/01 and Gregg was probably the first FDNY officer to enter the Twin Towers. His unwavering heroism helped to save thousands that day. Gregg will be greatly missed by everyone who knew him.
Frank Callahan
Frank was a Lieutenant in Ladder Company 34. He is remembered by the members of both Ladder 34 and Engine 84 for both his leadership and knowledge as a dedicated fire officer. The safety and well-being of his men was always his primary and overriding concern. Franks "dry" humor could always be counted on to bring a smile to everyone's face. He was promoted to Captain and was assigned to Ladder Company 35 in Manhattan. On September 11, 2001 he led his men in one of the greatest rescue missions in Fire Department history. Frank's memory will live on in the hearts and minds of everyone who had the great pleasure of knowing him.
Dana Hannon
Dana's first duty as a firefighter was with the Wyckoff, NJ volunteer fire department where he was recognized for bravery at a house fire. Dana also received a medal when he served with the Bridgeport, Conn fire department. He was appointed to the FDNY on 11/14/99 and had served the first rotation period of his probation in Ladder Company 34. He was expected to return there upon the completion of his probationary period. Dana was working with Engine Company 26 on September 11, 2001. During his short time with Ladder 34 Dana exhibited the desire to learn and a love for the job that made him accepted by his fellow firefighters in just a short time. May he rest in peace.
Anthony Jovic
Tony was appointed to the New York City Fire Department on August 19, 1990. After working in Ladder 150 he had transferred to Ladder Company 34 on February 28, 1998 where he worked until his promotion to Lieutenant on May 3, 2001. If there was a practical joke being thought up or perpetrated, you could expect that Tony was behind it. His good nature and love of his job made him one of "the good guys" who always made you feel good. On September 11th. Tony was working with Engine Company 279 when he gave his life to save others. His heroism on that day allowed others to live. Tony's memory will be kept alive by everyone who ever worked with him.
Gerry Nevins
Gerry was first assigned to Engine Company 84. His fun loving and mischievous good humor soon made him someone that you always wanted to have near you. Gerry's dedication to the job of firefighting was also evident in his desire to learn everything he could in order to make himself a better Fireman. He learned his job as an Engine-man and then transferred "across the floor" to Ladder 34 to continue his learning. Gerry's thirst for the knowledge to be his best finally landed him in Rescue Company 1 where he was named "Fireman of the Year". He would tell everyone with pride, "Firemen rescue people. Rescue Firemen rescue Firemen." Gerry we mourn your loss but we are grateful and very proud to have known you.
Glenn Perry
Glenn came from a long line of Firemen and Police Officers. Following in the footsteps of his father, brother, and future father-in-law, Glenn transferred to the Fire Department after working eight years as a NYC police officer. He was assigned to Engine Company 84 and later transferred to Ladder Company 34 where he stayed until his promotion to Lieutenant. He was working with Ladder Company 25 on September 11th. when he made the ultimate sacrifice. Glenn is remembered as a good firefighter who was always ready, willing and able to help anyone who needed him whether at a fire, or while off duty. Glenn's heroism at the World Trade Center comes as no surprise to anyone who knew him.
Father Mychael Judge
There were many heros on September 11, 2001. One man who stood out was Father Mychael Judge, Chaplain, New York City Fire Department.
Father Mychael was a very special individual. On the morning of 9/11, after the first plane crashed into the World Trade Center, Father Mychael was on hand minutes after the incident and was seen assisting those getting out of the building. He got out safely and was informed that firefighters were trapped inside. He rushed back into the tower which was on the verge of collapsing, and while performing last rites, Father Mychael removed his helmet in respect. At which time the debris started falling, killing him instantly. Father Mychael, A True Hero! Not only in Spititually, but as a man who gave his life helping others.
He was the first member of the FDNY killed that day. Many say that he would have wanted it that way so that he could be there to welcome all of our Brothers who would follow him to heaven that day. You did your job well here... Fr. Mike, enjoy your reward. You've earned it.
And He will raise you up on Eagle's wings,
Bear you on the breath of dawn,
Make you to shine like the sun,
And hold you in the palm of His hand.
Click flag
The operation at the scene of The World Trade Center Disaster was the largest successful rescue operation in the history of The United States of America.
Over twenty-five thousand people were rescued. These men gave their lives to save the lives of others for one reason. It was because they were Firemen, and if asked why, they would have simply said, "That's what we do!"
I have never been more sad, nor more proud in my life.
May They Rest In Peace And May God Comfort Their Loved Ones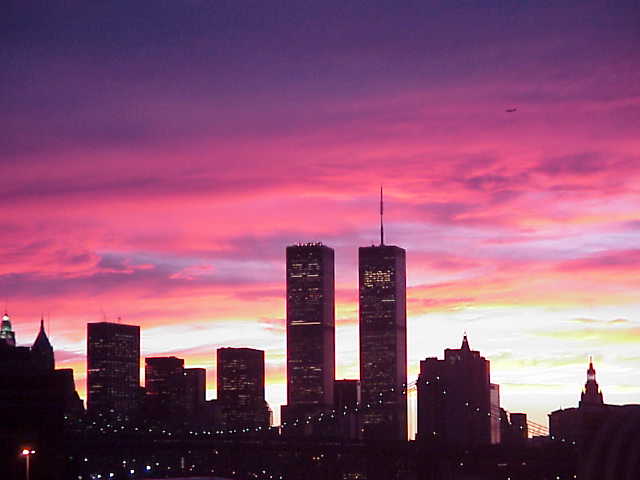 To view the tribute to all 343 Firefighters click here